You have celebrated New Year's Day, Martin Luther King Day, and Valentine's Day. So now it is time to observe World Water Day. Like those holidays the celebration of water is about resolutions, equality and love "of life."
Twenty-two years ago (March 22, 1993) the very first World Water Day was designated by the United Nations General Assembly. This year to inspire peoples of the world to think about water sustainability, the UN is addressing Water and Health, Water and Nature, Water and Urbanization, Water and Industry, Water and Food, Water and Energy, Water and Equality.
Most of us in the U.S. take water for granted. We don't think about it or realize that a water crisis may be coming soon to a community near you. Looming and menacing just out of sight and out of mind until a water disaster hits. It could be drought, floods, contamination and could affect our health, our community's economic status and our pocket book.
So World Water Day is time for all of us to think about water on our Blue Planet. What does water mean to you and what can you do to celebrate? Here are my top 10 suggestions.
1. Find out where your drinking water comes from.
Surprisingly, 60 percent of individuals have no idea where the water they use every day is coming from. Is the source of your drinking water groundwater? A lake, A reservoir? A river? And what is the state of the waters serving your community? Is the water level low or high? The drought in the west is severe and no doubt this summer there will be rationing. In California, I was very pleased that the local TV news stations were reporting on the state of the reservoirs and lack of rainfall. A water report should be regular segment on all local news stations, just like we report on air quality and the weather.
2. Read your "Consumer Confidence Report".
Information about your drinking water is found in the CCR as mandated under the U.S. Safe Drinking Water Act, (for all U.S. residents served year-round by a municipal water utility). The CCR provides you with information about the source of your water, contaminants that might be found in your water and their health effects. Further information can be found at EPA's Safe Drinking Water Hotline (800-426-4791).
3. Find out where your water goes when you flush the toilet.
I don't know about you but I love my toilet. Having visited countries and locations where there are no toilets I really appreciate our access to generally clean bathrooms. But that is not the end of it. Thanks to the Clean Water Act in the U.S., sewage is collected and treated before it is discharged to surface waters. This is one of the most significant legislations protecting public health ever implemented. This means our rivers and lakes are "swimmable and fishable." This has also led us into the era where advanced treatment to remove nutrients and reuse of water is possible, providing water security and reclamation. It must be recognized that much of the world's populations do not have access to toilets, sewers, or wastewater treatment. This has led to poor hygiene, major degradation of waters and public health risks. Because of the lack of attention to wastewater, ten of the world's longest rivers (55,734 km or 34,629 miles) are so badly polluted that the water security of 5 billion people are impacted.
4. Follow a storm event.
Draining water off the land so that we can farm, live, build our cities is of upmost importance and stormwater controls have been around since early civilizations began. However, as climate changes so has storm intensities over whelming our current storm water systems causing damage and contamination. Flooding is the number one disaster in the world, causing more economic damage, loss of life and property, and loss of infrastructure than any other disaster. The "Green" management of storm water using porous pavement, rain gardens and improved ways to capture the valuable water are moving forward and will enhance our landscapes and protect our health and property in the future.
5. Compare your water, wastewater and storm water bill against your phone and cable TV bill.
While water has been accepted as a human right, across the U.S. and indeed across the world we do pay for water services. But how we pay the entities that are in charge of water and how much are not consistent and often don't seem equitable. The control and treatment of water, wastewater and stormwater can be run by three different agencies. This fragmentation has led to problems in funding flood control, wastewater and drinking water infrastructure projects. We need to support consolidation and integrated water management strategies, community programs and water districts based on watersheds that span political boundaries. This only makes good economic sense and the value of a 24/7 water supply that is safe, clean beaches and shorelines as well as being able to support industries should not be underestimated.
6. Read a good book on water.
Whether you are looking for a good children's book, book on history, the earth's systems or health, you will find something worthwhile on water. Read these three books and you will never take water for granted again, getting a sense how water and humans have shaped our planet, societies and economies.
Water 4.0: The Past, Present, and Future of the World's Most Vital ResourcePaperback – March 31, 2015 by David Sedlak (Author)
Blue Mind: The Surprising Science That Shows How Being Near, In, On, or Under Water Can Make You Happier, Healthier, More Connected, and Better at What You Do Hardcover – July 22, 2014 by Wallace J. Nichols (Author), Celine Cousteau (Foreword)
The Big Thirst: The Secret Life and Turbulent Future of Water Paperback – February 14, 2012 by Charles Fishman
Water: The Epic Struggle for Wealth, Power, and Civilization Paperback – January 18, 2011 by Steven Solomon (Author)
For young readers who want to learn about the water cycle and the beauty of our water environment there are some great choices.
National Geographic Readers: Water Paperback – July 8, 2014 by Melissa Stewart (Author)
Water Can Be . . . (Millbrook Picture Books) Library Binding – April 1, 2014 by Laura Purdie Salas (Author), Violeta Dabija (Illustrator)
All the Water in the World Hardcover – March 22, 2011 by George Ella Lyon (Author), Katherine Tillotson (Illustrator)
Water Paperback – March 13, 2000 by Frank Asch (Author)
7. Visit a beach, lake, river, stream, wetlands, an aquarium, and enjoy the interaction between nature and water and people. Unfortunately many of us are distanced from the water that surrounds us. We must do more to connect people with their water environment for recreation, for pleasure, for beauty, and for spiritual replenishment or simply to enhance our appreciation of how important water is in this world.
See the power of water. Go visit the Bonneville dam along the Columbia River in Oregon. Learn how the Colorado River created the Grand Canyon in Arizona wildlife in Florida, view the majestic shoreline of the Great Lakes in Michigan. Listen to the laughter and energy of a bubbling stream in your city and state parks.
As you grocery shop or garden think of the water that is needed to produce our food supply (not to mention our beer and wine) and many of our beautiful yards. Think of our amazing wildlife and aquatic plants and fish. Watch as our dogs (and kids) delight in running through those mud puddles and maybe splash through it yourself.

8. Get involved in foundations, watershed organizations, and citizen science. There are a number of organizations where we can be involved from the global scale to the local.
Global Water Foundation www.globalwaterfoundation.org/ (Water is Life, Sanitation is Dignity. Together We Can. Make a Difference)
Water For People: (Water For People brings together local entrepreneurs, civil society, governments, and communities to establish creative, collaborative solutions that allow people to take action).
Water.org (provides innovative, market-based solutions that change lives every day through safe water and sanitation. Believe it or not, more people in the world have a cellphone than access to a toilet says charity co-founded by actor Matt Damon).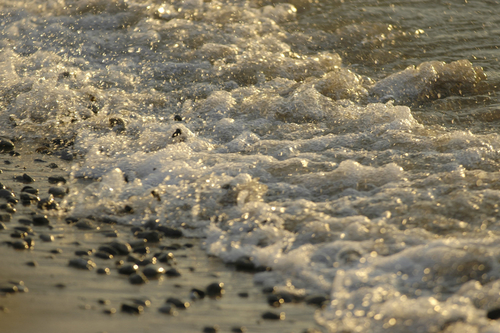 9. Think about a job in the water profession and see the world.
Startling analysis of human resources presents a dramatic and grave situation in regard to numbers of technically trained personnel required for water and sanitation service delivery around the world (from The 'Mind the Gap' study (2009), and the International Water Associations "Human resource capacity gaps in water and sanitation: Main findings and the way forward."
Educational institutions will need to think about how to graduate hundreds to 100s of thousands of water scientists, chemists, microbiologists, economists, managers, engineers and technicians to remedy the severe state of affairs. Anyone trained in these water fields will find exciting and rewarding employment opportunities.
10. Enjoy a wholesome and safe glass of water.
Our Blue Planet depends upon water, one of the most critical of all the world's life support systems. Water quantity and quality (access and management) are interlinked with our global biohealth servicing a sustainable plant, animal and human network. Let's celebrate World Water Day with a toast to our health and the biohealth of the earth.
As you grocery shop or garden think of the water that is needed to produce our food supply (not to mention our beer and wine) and many of our beautiful yards. Think of our amazing wildlife and aquatic plants and fish. Watch as our dogs (and kids) delight in running through those mud puddles and maybe splash through it yourself.